We're dedicated to bringing you the best of the best.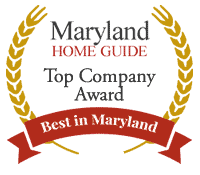 With the multitude of Internet listings, it is sometimes hard to find quality companies and products for your home. At Maryland Home Guide, we've gone the extra mile to help you sift through the clutter and find companies and products that are credible. Remember to always check references and licenses for any company you choose to hire. And, it is a good idea to get at least three quotes on any home improvement project.
Maryland Home Guide is a Maryland business directory that helps homeowners find the best of the best Maryland businesses.
What we do
We scour business listings (both online and offline) to find businesses in each category. We then apply a set of criteria with a human review to narrow down the choices. The final businesses we select not only serve residents in Maryland, but, they also have a track record of providing quality workmanship, good customer relationships, the proper licensing, reliability and credibility.
We provide articles with worthwhile information about home repairs and improvement, DIY tips and great products and services in our resources section.
How you can help
If you have a suggestion for our guide or an idea for a great articles, just drop us a line.